Del Valle Health Center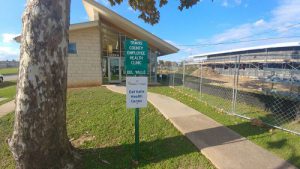 Located at the Travis County Employee Wellness Center, the Del Valle Health Center opened Nov. 20, 2017. The opening of the new Del Valle Health Center is considered an interim solution—with plans for a larger, permanent health center on adjacent property. The center offers medical care and behavioral health services.
Location: 3518 FM 973, Del Valle, TX 78617
Hours: Mondays, Tuesdays, 8 a.m. – 7 p.m., Saturdays, 8 a.m. – 5 p.m.
For information or to make an appointment, call: (512) 978-9015.
Services are offered by CommUnityCare Health Centers, the Travis County Health & Human Services Department, and Integral Care. We are thankful to Travis County for allowing us the use of space.
Permanent Health Center on Kellam Road
Clinic Type: Permanent health and wellness center including clinical services, in partnership with Travis County Emergency Services District (ESD) 11.
Clinic Location: 7300 Kellam Rd, Del Valle, TX 78617
Services: Partners are determining the scope of services that will be provided at this location.
Days/Hours of Operation: To be determined.
Ground Breaking: 2019
Expected Opening: Early 2020
Del Valle Health Center Phase II
A permanent health center is projected to open in 2021 on adjacent property next to the Travis County Employee Wellness Center. The plan includes a 5,600-square-foot site with the potential for multiple floors.
Possible services include:
Medical
Dental
Pharmacy
Behavioral health
Eligibility services for health coverage
Special Supplemental Nutrition Program for Women, Infants, and Children (WIC)
Emergency assistance programs
Case management
Basic needs application assistance
Location: 3518 FM 973, Del Valle, TX 78617
Target Completion Date: 2021
Mobile Health Clinic in Creedmoor
Clinic Type: A mobile health clinic, which is a customized bus with two built-in exam rooms and other medical equipment.
Clinic Location: Creedmor Community Center, 12511 FM 1625, Creedmor, TX 78610
Services: Primary care, preventative, vaccines, on-site lab, chronic disease management, limited pharmacy. Non-clinic services could include eligibility services provided by Central Health, and transportation services to the clinic site by the Community Care Collaborative, Central Health's nonprofit partnership with Seton.
Days/Hours of Operations: Two days per week (days to be determined) from 9 a.m. – 4 p.m.
Expected Opening: Summer 2019
About the Population: Data & Demographics
Families in Poverty
| Neighborhood | 2017 Population | 2017 Total Families | 2017 Families in Poverty | 2022 Total Families | 2022 Families in Poverty | 2022 Percent Families in Poverty | 2022 Rank of Families in Poverty (1-216) |
| --- | --- | --- | --- | --- | --- | --- | --- |
| Travis County | 1,218,304 | 275,722 | 33,061 | 303,410 | 36,541 | 12.00% | |
| Creedmoor (north) | 2,238 | 493 | 111 | 526 | 120 | 22.80% | 101 |
| Creedmoor (south) | 2,068 | 485 | 101 | 548 | 115 | 21.00% | 104 |
| Elroy | 9,407 | 2051 | 401 | 2289 | 447 | 19.50% | 17 |
| Del Valle | 3,653 | 784 | 318 | 864 | 351 | 40.60% | 32 |
| East Del Valle | 7,878 | 1797 | 285 | 2018 | 319 | 15.80% | 37 |
Demographics - Race/Ethnicity
Hispanic /
Latino
Total & Percent
White
Total & Percent
African American
Total & Percent
Asian
Total & Percent
American Indian /
Alaska Native
Total & Percent
Hawaiian /
Pacific Islander
Total & Percent
Other
Total & Percent
County Average
32.50%
48.90%
8.00%
6.40%
1.61%
0.20%
2.10%
Creedmoor (north)
1,728
77.21%
389
17.38%
41
1.83%
3
0.13%
52
2.32%
8
0.36%
15
0.67%
Creedmoor (south)
1,282
61.99%
663
32.06%
69
3.34%
2
0.10%
21
1.02%
3
0.15%
27
1.31%
Elroy
6,614
70.30%
1,162
12.40%
1,064
11.30%
199
2.10%
229
2.40%
16
0.20%
116
1.20%
Del Valle
2,929
354
9.70%
204
5.60%
7
0.20%
117
3.20%
11
0.30%
31
0.80%
East Del Valle
4,922
62.50%
1,500
19.00%
931
11.80%
146
1.90%
234
3.00%
26
0.30%
119
1.50%