From innovative prevention and wellness programs to strategic collaborations, Central Health partners with world-class organizations to offer a full range of programs and services that help Travis County residents live their healthiest lives.
Health care for all.
Partnerships & Projects
Click the images below for more information about each partnership or project.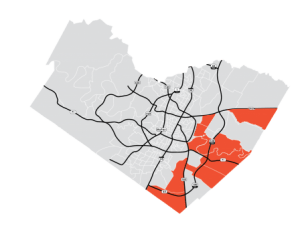 Learn more about our plans to enhance services in areas of Travis County that are traditionally underserved, but also among the fastest growing and most diverse.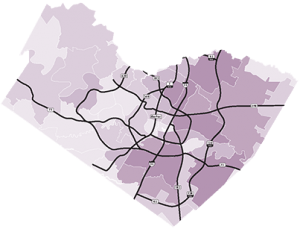 2017 Central Health Demographic Report
The 2017 Central Health Demographic Report is a tool designed to assist all governmental, non-profit, and private entities serving Travis County's safety net population.
The Demographic Report provides detailed analysis of Travis County's populations, with particular focus on those living at or below the federal poverty level. In addition, the report provides five-year projections of where and how the county's population is expected to change. Details include census tract-level analysis of:
Race/ethnicity

Age

Gender

Families in poverty
Health care providers

Availability of public transportation

Households without vehicles

Availability of subsidized public housing
The Demographic Report also provides analysis of where the patients served by Central Health reside, and where they are receiving care. Combined, this data enables a broad understanding of the many needs experienced by low-income residents, from health care to housing to transportation and more.
Highlights of the Demographic Report include:
143,000+
Patients receiving care funded by Central Health
67%
Percent of Central Health patients identified as Hispanic/Latino
89%
Percent of Central Health patients between ages of 19-64
55%
Percent of Central Health patients who are female
$12,228
Income threshold for an individual considered living in poverty
$24,563
Income threshold for a family of four considered living in poverty
144,605
Travis County residents living below the poverty level
33,061
Travis County families living below the poverty level
67,121
Central Health patients living below the poverty level
In 2022, Pflugerville is projected to have Travis County's highest concentration of African-American and Asian residents, and the second-highest concentration of Hispanic/Latino residents

In the areas projected to contain the highest concentrations of poverty, Hispanic/Latino residents will represent 59 percent of the population

In the areas projected to contain the highest concentrations of poverty, the rate of children under age 18 is projected to be 6 percent higher than the county's overall rate

There are presently just 660 subsidized public housing units reserved for the more than 33,000 Travis County families living below the poverty level
Watch the Travis County Commissioners Court Presentation
Watch the overview video with JP Eichmiller, Director of Strategic Communications