The Central Health Equity Policy Council (CHEP Council) launched in September 2015 and includes members from over 70 community partners.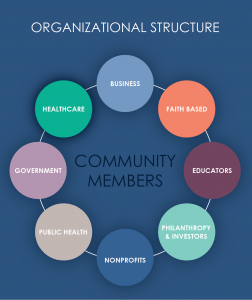 The Council includes policy, data, and community experts that are passionate to health issues concerning our community. All members have received training on evidence-based best practices and innovative policies from local, state and national experts.
The Council provides recommendations for local chronic disease prevention policies inside the geographic boundaries of Travis County, Texas. The Council population of concern is residents of Travis County at or below 200% of the Federal Poverty Level.
Vision
Wellness for all through health equity in our community.
Mission
Identify and advance effective health equity and wellness policies for Travis County residents.
Member Expectations
Be committed to the vision and mission of the Council
Bring evidence-based, best practice information back to the Council for planning and decision-making
Serve as an effective liaison between your agency and key stakeholders and the Council
Commitment to work in the public interest using your expertise to create health equity in Travis County
Member Commitment
Attend annual Council at Large meeting
Inform the annual policy agenda
Participate in ad hoc committee upon request (this may require a monthly meeting commitment during a policy initiative
Contribute personal and/or professional time upon request and according to availability
For more information, contact Megan Cermak at Megan.Cermak@centralhealth or 512.978.8172