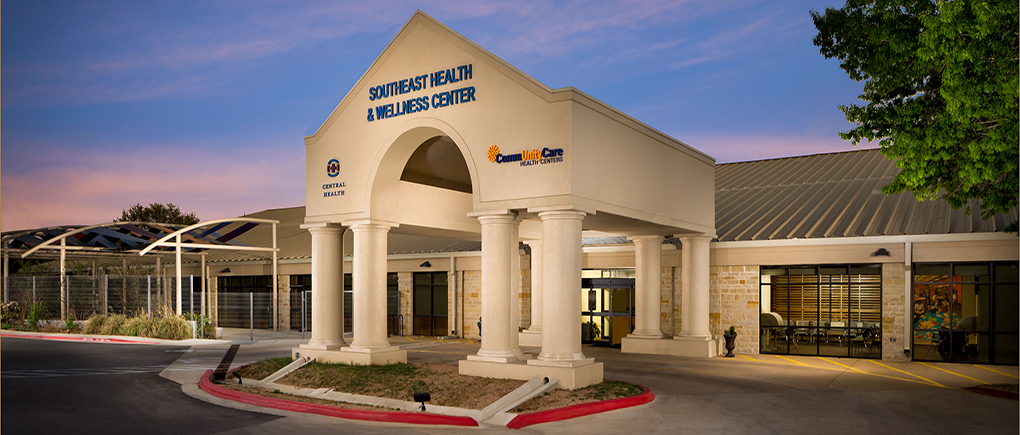 The Central Health Southeast Health & Wellness Center is a new model for care
The Central Health Southeast Health & Wellness Center (SEHWC) is the result of a collaborative effort involving the Southeast Austin community, Central Health, and CommUnityCare.
Designed to serve our target population of uninsured and underinsured Travis County residents, the SEHWC is open to all members of the community.
Central Health owns the property and will manage the center's operations.
The 30,000 square-feet of Phase I of this center offers a full range of healthcare services, including dental care, family medicine, specialty care (pulmonology and gastroenterology), behavioral health care, and an on-site pharmacy.
Phase II of the SEHWC expands existing services to include radiology, a laboratory, and healthcare navigation support as well as exercise classes, and other wellness programs.
Additional community resources are available through the Community Resource Center, including meeting rooms, exercise spaces, education facilities, and more.
Community Meeting Space
The Central Health Southeast Health and Wellness Center (SEHWC) offers free meeting or office space to nonprofit organizations working in coalition to enhance our goal of creating healthier communities. To be eligible to use the SEHWC, a nonprofit organization must have 501(c)(3) tax-exempt status or be a governmental entity working within the State of Texas and fill out the Community Partner Request Form.
---
Legal Services
Legal Service Providers should review the Legal Proposer Questionnaire.
For more information, contact Elizabeth Marrero, Program Manager, at (512) 978-9807.