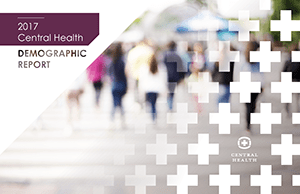 2017 Demographic Report

Central Health will use this report to step up discussions and planning with fellow governmental, private, non-profit, academic, and community partners on how we address health inequities and disparities together. We invite you to join in this conversation and take action.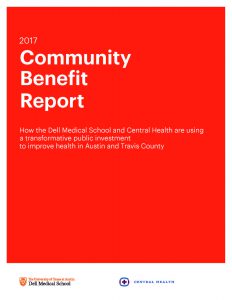 2017 Community Benefit Report

This new report demonstrates that the young partnership between Central Health, the Dell Medical School at The University of Texas at Austin, and the Seton Healthcare Family  is already improving health and increasing access for those who need it most.
2017-2019 STRATEGIC PLAN
Central Health was created in 2004 by the voters of Travis County to ensure the availability of quality health care to low-income and uninsured residents. To help establish benchmarks and ensure Central Health adapts to the changing local health care environment, every third year Central Health's Board of Managers adopts a new strategic plan. The 2017-19 Central Health Strategic Plan represents the fourth iteration of this guiding document.
Since starting operations, Central Health has emphasized increasing the volume of health care services it funds for Travis County's low-income and uninsured residents. For example, in 2015 Central Health funded more than 376,000 primary care visits, more than double the total from 2005. Additionally, Central Health continues to increase the number of unduplicated patients it provides funding for, with a five-year increase of more than 32,000 patients from 2011 to 2015.
Archived Plans, Reports, and Data