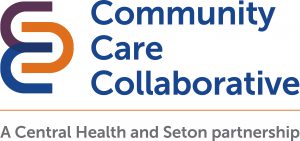 The Brand Mark
The Central Health logo includes both the organization symbol and the logotype of the name. The brand mark refers collectively to the various configurations of the logo, including the white space surrounding these elements. To maintain consistency across varied applications, only 2 configurations of the brand mark should be used.
Download a ZIP package of approved vector (.eps) andraster (.jpg and .png) versions of the CCC logo.
Colors
The Community Care Collaborative utilizes four primary colors:
1. Purple
RGB – R:90, G:51, B:83
CMYK – C:83, M:100, Y:69, K:0
Web – #5a3353
2. Blue
RGB – R:0, G:51, B:161
CMYK – C:100, M:84, Y:12, K:3
Web – #0033a1
3. Orange
RGB – R:223, G:111, B:29
CMYK – C:0, M:65, Y:100, K:9
Web – #df6f1d
4. Gray
RGB – R:109, G:110, B:113
CMYK – C:0, M:0, Y:0, K:70
Web – #6d6e71
NOTE: A fifth color emerges in the area where the purple and blue "C" elements overlap.
5. Dark Blue (blue/purple overlap in logo)
RGB – R:0, G:45, B:116
CMYK C:100, M:87, Y:27, K:19
Web – #002d74