By caring for those who need it most, Central Health improves the health of our community. We are the local public entity that connects low-income, uninsured Travis County residents to high quality, cost effective health care.
Central Health works through a network of health care partners and community members to connect uninsured, underinsured, and low-income residents with high-quality, cost-effective health care. We use local and federal funds to create access to and transform safety net health care services through:
By investing in these programs, Central Health is improving the safety-net healthcare system, economy, and overall standard of living in our community.
Central Health is a separate political subdivision of the State of Texas and is not a part of Travis County Government. The boundaries of our healthcare service area are contiguous with Travis County.
Our work is guided by a Strategic Work Plan, developed by staff and approved by our Board of Managers. This Work Plan will be used and updated through 2024. It is divided into Three Main Objectives:
Develop and execute health care delivery strategy based on people and place.
Implement patient-focused and coordinated health care system
Implement sustainable financial model for health care delivery and system strategies through 2024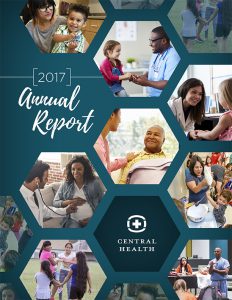 Read our 2017 fiscal year annual report to learn about our accomplishments over the previous year.
FY2017 Highlights
150,8001 people received health care services (+7,800 year-over-year)
75,737 people received screening and assistance obtaining health coverage (+5,061 year-over-year)
1,524 people received health insurance premium assistance (+682 year-over-year)