About the Council
The Central Health Equity Policy (CHEP) Council launched in September 2015 and includes members from over 70 community partners.
The CHEP Council includes policy, data, and community experts that are passionate about health issues concerning our community. All members have received training on evidence-based best practices and innovative policies from local, state and national experts.
The CHEP Council provides recommendations for local chronic disease prevention policies inside the geographic boundaries of Travis County, Texas. The population of concern is residents of Travis County at or below 200% of the Federal Poverty Level.
The CHEP Council defines health equity as equal access to health care and support regardless of one's social determinants of health or demographic profile. 
Wellness for all through health equity in our community.
Identify and advance effective health equity and wellness policies for Travis County residents.
Be committed to the vision and mission of the Council

Bring evidence-based, best practice information back to the Council for planning and decision-making

Serve as an effective liaison between your agency and key stakeholders and the Council

Commitment to work in the public interest using your expertise to create health equity in Travis County
Attend annual Council at Large meeting
Inform the annual policy agenda
Participate in ad hoc committee upon request (this may require a monthly meeting commitment during a policy initiative
Contribute personal and/or professional time upon request and according to availability
BOOK CLUB (Ongoing)
CHEP Council members started a book club in early 2021 to expand their knowledge about health equity. The first book was Well: What We Need to Talk About When We Talk About Health by Sandro Galea.
"Well is a radical examination of the subtle and not-so-subtle factors that determine who gets to be healthy in America. Galea shows how the country's failing health is a product of American history and character — and how refocusing on our national health can usher enlightenment across American life and politics." (Goodreads.com)
The book list will be updated as more books are read and discussed. 
PANDEMIC EQUITY COMMITTEE (2020-2021)
During the COVID-19 pandemic, a Pandemic Equity Committee was formed to evaluate the Austin-Travis County disaster response and to conduct research on how to improve future responses by making them more equitable. 
HIV SCREENING OPT-OUT POLICY (2018-2019)
In 2018, the CHEP Council kicked off its third initiative, which centered around implementing an HIV screening opt-out policy at safety-net provider clinics in Travis County. The U.S. Centers for Disease Control and Prevention (CDC) now recommends testing all health care patients for HIV––regardless of their reported risk behaviors––using an "opt–out" approach in which patients are informed that an HIV test will be conducted unless they explicitly decline to be tested.
The CHEP Council worked with the following providers to successfully adopt, implement, or strengthen the screening policy: 
St. David's South Austin Medical Center

El Buen Samaritano

People's Community Clinic

CommUnityCare
The coalition also partnered with the University of Texas LBJ students who created an algorithm that determines the cost of screening for healthcare systems, how many more years of life are saved by the additional screening and quality of life-years adjusted.
RECESS POLICY (2017-2018)
The CHEP Council took up its second initiative around recess policy in 2017. Building on the momentum of Austin ISD adopting a model recess policy, the CHEP Council advocated for recess policies in the Manor and Leander ISDs.  
SCHOOL DISTRICT POLICY ADOPTIONS
AUSTIN BREATHES VAPE FREE AIR (2016-2017)
As their first initiative, the CHEP Council worked on and successfully passed a City of Austin ordinance in 2017 to prohibit electronic smoking devices anywhere smoking is prohibited.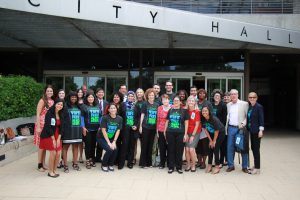 Links:
Call  512.978.8172, or email Manager of Community and Population Health Strategy Megan Cermak.
Email Megan