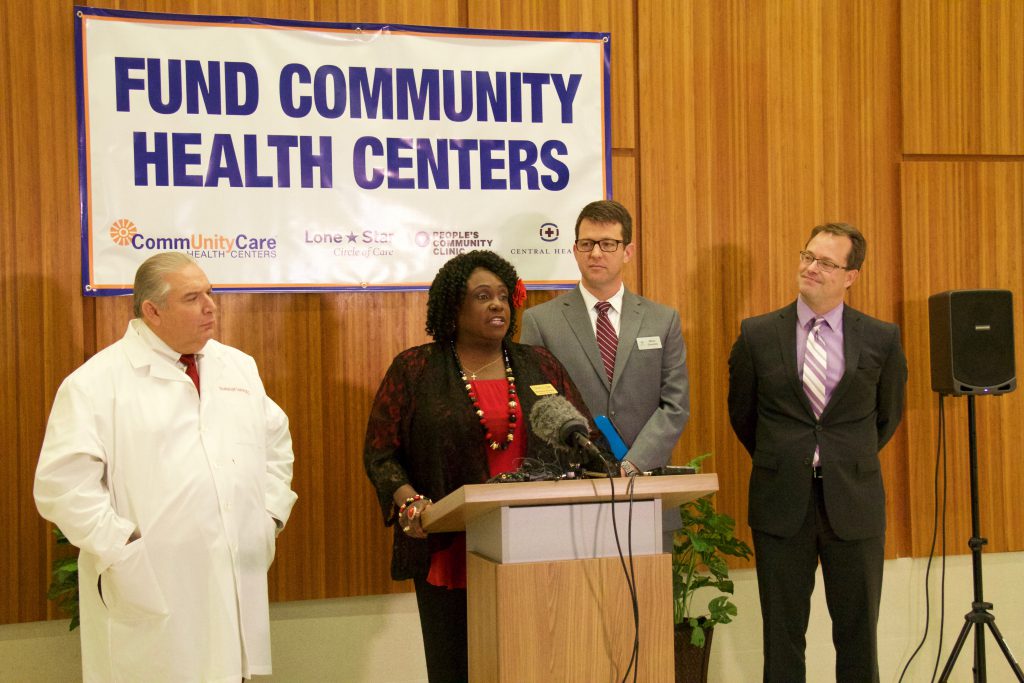 (Austin) — Staff, patients, and board members of CommUnityCare Health Centers today called on Congress to extend funding for community health centers and preserve affordable health care in Travis County. 
Critical funding for health centers and other programs under the Community Health Center Trust Fund, which subsidizes Federally Qualified Health Centers (FQHCs), expired Oct. 1, 2017. On Tuesday, the U.S. House of Representatives released its proposal to fund the government past Feb. 8 (Thursday), which included two additional years of funding for the Community Health Center Trust Fund. However, the Senate's response to the House proposal is unclear.
Every FQHC in the country, including CommUnityCare and Lone Star Circle of Care here in Travis County, has made tough budget choices to ensure they can continue to provide care for people with low income.  FQHCs operate as nonprofits and follow specific rules, including having patients on their boards to help oversee clinic operations. FQHCs also must care for all patients regardless of whether they have private insurance or no insurance.
"Seventy percent of CommUnityCare's federal funding would be at risk unless Congress takes action," said Jaeson Fournier, CEO of CommUnityCare Health Centers. "That's about $4.2 million. If we don't secure funding by April 1, CommUnityCare will have to make very difficult decisions – balancing funding cuts with providing patient care."
The call to fix the funding cliff comes as patients, doctors, and staff at health centers face a ticking clock, with a substantial portion of federal funding only expected to last until next month.  According to the Texas Association of Community Health Centers (TACHC), in Texas, going over the "cliff" would mean a loss of $166,935,399 in funding, with nearly 200,000 patients losing access to health care, and leading to a much larger ripple effect impacting hundreds of thousands more across the state. Health centers currently serve 27 million patients nationally and more than 1.3 million in Texas. Some have already enacted hiring freezes, cut back key programs and services for patients, and faced site closures, according to TACHC.
Not only could the funding cliff trigger job losses in the local economy; on a national scale, TACHC says it could mean the closure of 2,800 health center sites, loss of health care access for 9 million patients, and more than 50,000 jobs lost.
Barbara Shirley serves on the board of directors for CommUnityCare and has been a patient there since 2008. "I was laid off from my job in 2008, lost my health insurance and had a heart attack," Shirley said. "CommUnityCare saved my life. I see my primary care doctor there, and they refer me to specialists to manage my diabetes and asthma. I truly can't imagine my life without Federally Qualified Health Centers like CommUnityCare."
Central Health, the local public entity that provides access to health care for about 1 in 10 Travis County residents with low income, funds 19 CommUnityCare clinics. Last year, with funding from the Community Health Center Fund and Central Health, CommUnityCare served 93,000 patients. Dr. Guadalupe Zamora is a practicing family physician and Central Health Board Chair. "Without community health centers like CommUnityCare, millions of people across the United States with low income wouldn't have the opportunity to live healthier lives. Thousands of people in our country wouldn't have jobs." Zamora continued, "The Central Health Southeast Health & Wellness Center – where we're standing today – is a model the rest of the country should emulate, but we need support at the federal level. I hope Congress is listening and will take action."
About Community Health Centers
Federally Qualified Health Centers (FQHCs) provide primary health care such as medical, dental, behavioral health and pharmacy and also provide services like health education, transportation, and case management. Health centers serve patients in medically underserved communities regardless of insurance status or ability to pay. In Texas, there are more than 75 community health centers – spread out over 460 delivery sites in 125 counties. Nationally, 1 in 12 Americans get their health care from a community health center.